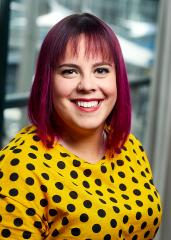 Speaker: Ana Medina
Software Engineer @Gremlin
Ana is a Software Engineer living in San Francisco. She is currently working as a Chaos Engineer at Gremlin, helping companies avoid outages by running proactive chaos engineering experiments. She last worked at Uber where she was an engineer on the SRE and Infrastructure teams specifically focusing on chaos engineering and cloud computing. Catch her tweeting at @Ana_M_Medina mostly about traveling, diversity in tech, and mental health.


Find Ana Medina at:
Workshop
Chaos Engineering involves running thoughtful, planned experiments that teach us how our systems behave in the face of failure.
Ana Medina and Vincent Huang lead a hands-on tutorial on chaos engineering, covering the tools and techniques you need to effectively practice continuous chaos engineering. You'll learn to identify new ways to practice chaos engineering and discover how other companies are using chaos engineering.